BB and I have been compiling a list of suggested itineraries for our wedding guests who are spending the long weekend in Boston. We've got the expected Historical Route (
Paul Revere's House
,
The Freedom Trail
,
The Old North Church
), the Sports Fans Route (
Fenway Park
,
The Cask n' Flagon
,
The Garden
) and even a Shoppers Route (Charles St, South End). But I'm mentally assembling a Route for those who want to see the curious, charming sometimes hidden sites of Boston. I'm thinking I'll call it the Curious Boston Route.
When I first moved to Boston ten years ago, the whole city struck me as curious and magical. And sadly, a lot of the places that made it seem that way are no longer around; I'm thinking of the
Avenue Victor Hugo Bookstore
and
Deli Haus
, specifically. But there is still certainly wonder to be found in Boston and here's what I have so far:
1. The Diorama exhibit in the Wiggins Gallery at
The Boston Public Library
2. The courtyard at
The Boston Public Library
3.
Caffe Vitoria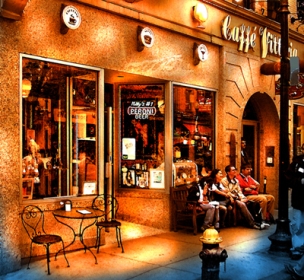 4.
The Boston Athenaeum
5.
The Mapparium
(More on the beaten path than off, but still worth the trip.)
There's plenty more, but I've just started thinking about it. I'll follow up with a more thorough list soon. Please feel free to contribute!